Convergent evolution of the olfactory system of subterranean reptiles and amphibians
PhD position (f/m/d) in Herpetology in the Zoology Department at the State Museum of Natural History in Stuttgart Homepage: www.naturkundemuseum-bw.de/en
The State Museum of Natural History in Stuttgart (SMNS) with ca. 170 employees is one of the largest natural history museums in Germany and sees itself as a future-oriented research and educational institution.
This PhD position will contribute to the project "Convergent evolution of the olfactory system of subterranean herpetofauna".
The project:
The subterranean habitat is a lightless, hypoxic, hypercapnic inhospitable environment with scarce food resources that lead to strong evolutionary constraints for organisms.
The optic system in subterranean vertebrates has been studied over the last few decades. It is now well known that various subterranean vertebrate groups independently reduced their sense of vision as demonstrated by the reduced size of their eyes or their optic nerves. However, little is known about their olfactory capabilities; but it is very likely that subterranean vertebrates rely on efficient olfactory capabilities for foraging and mating.
Reptiles and amphibians independently evolved through subterranean lifestyle with elongated body, and rostrum as well as limbs and eyes reduction or even loss. They are a perfect model to study the potential convergence of the efficient olfactory capabilities in subterranean vertebrates.
Thanks to the recent development of technologies (e.g., dice-CT) it is now possible to image in 3D and properly quantify the olfactory organs of small animals such as subterranean reptiles and amphibians.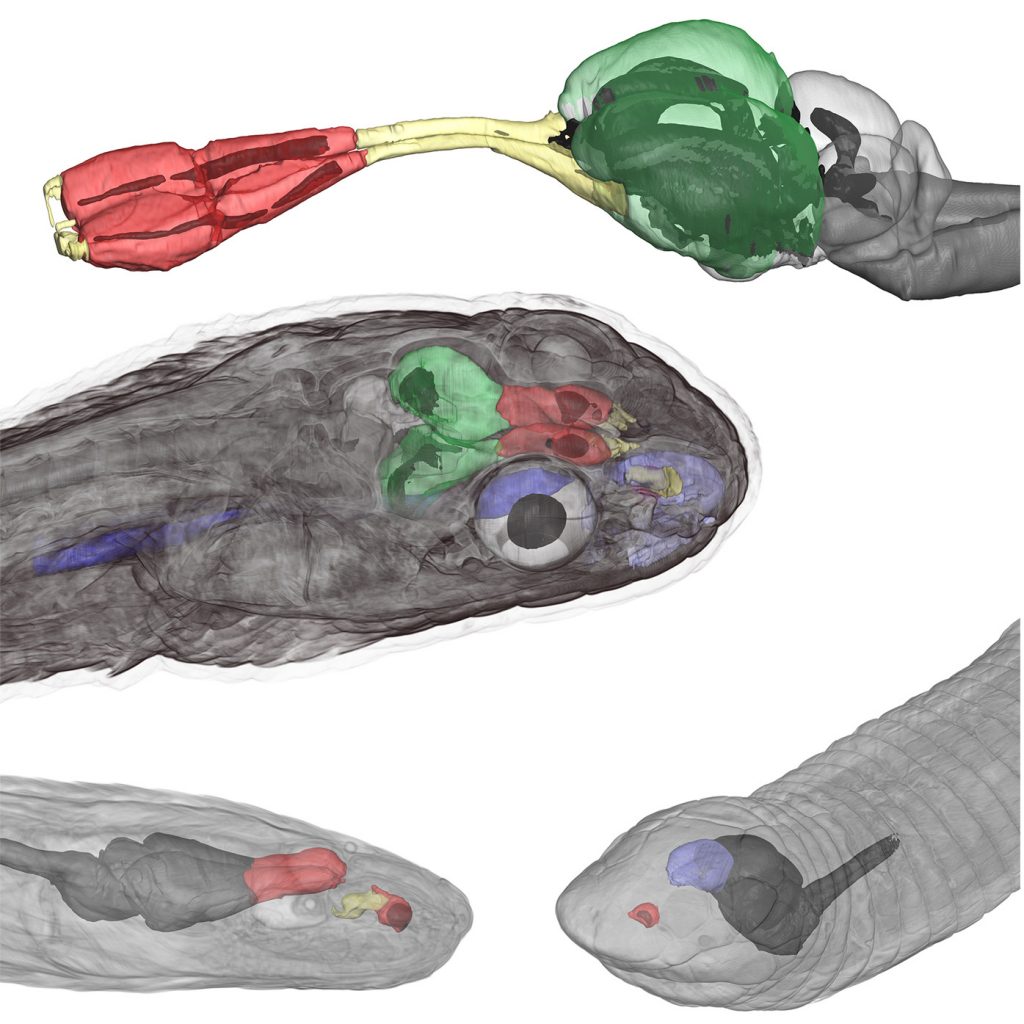 Tasks: 
The main goals of this PhD will be to (1) acquire the dice-CT data for most subterranean lineages as well as their close terrestrial relatives, (2) image and describe the olfactory organs of these species with identifying their potential novelties, (3) quantify the relative size of their olfactory organs and test the potential convergence and relation with ecology.
The candidate will be supervised by Dr. Alexander Kupfer and Dr. Quentin Martinez. Alexander is the researcher and curator of herpetology at the SMNS and he is an expert in Gymnophiona but also well experienced with micro-CT technologies. Quentin is a post-doc researcher working on many aspects of vertebrate olfaction and highly experienced with micro-CT technologies.
This project will allow the candidate to be formed to micro-CT technologies, to publish several high quality peer reviewed articles and to develop research collaborations. According to the candidate's progress, it will be possible to extend the investigations with integrative approaches (e.g., histology, and genomics).
Requirements: Applicants should hold a master's diploma or equivalent degree in biology or related disciplines. A strong interest in herpetology and anatomy are desired but not required.
We offer:
• the opportunity to pursue your academic career in an internationally renowned research museum with excellent facilities
• intensive academic and personal mentoring in the course of the PhD-project
• exciting research projects in an international and multidisciplinary environment
• an attractive workplace in the centre of Stuttgart
• flexible worktime for your research
• benefits from occupational health management
• professional and personal development opportunities through training programs
Salary corresponds to the German civil service salary scale E13 TV-L, 50%. The position should start July 1, 2023 and is funded for 3 years. Please submit your electronic application exclusively online (in one file, max 5 MB), to doktorand.zoo@smns-bw.de until May 18th, 2023. The selection interviews will take place on May 25th, 2023.
The electronic application must be in English and should contain: (1) a Cover letter, (2) a CV, (3) a copy of relevant academic certificates, (4) contact details of at least one referee who can recommend your work.
For further information, please contact Alexander Kupfer (alexander.kupfer@smns-bw.de, +49(0)711-8936-144) or Quentin Martinez (quentin.martinez@smns-bw.de).
The SMNS strives to increase the percentage of women in areas where women are underrepresented and therefore strongly encourages applications from qualified women. Individuals with disabilities will be given priority for employment if equally qualified.
Further information on data protection law for applicants can be found on our homepage under "Jobs" (in German).